Jochen Weiss (Dean of Sanskrit Program)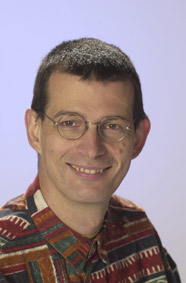 Gaura-siromani Dasa (Jochen Weiß), born in 1962, has studied Sanskrit at the university of Heidelberg where he became the co-author of a textbook for Sanskrit beginners. In 1992 he took initiation into a Vedic disciplic succession. For ten years, he has been living according to the spiritual principles of the Vedic social order (varnasrama-dharma), mainly in monasteries. In numerous extended stays in India, he thoroughly studied the spiritual texts of the ancient Vedic culture, especially at the Vaisnava Institute of Higher Education in Vrndavana where he holds the degree of honor of the Bhakti-sastri diploma.
In 2003 he wrote his first novel, "Kali kommt" (Kali Coming), which is settled in the traditional Vedic culture. Ha has also translated several books of Vedic philosophy into the German language and gives regular seminars on these topics. He has been a member of the Vedic Academy (Germany) since 1997, where he is teaching Sanskrit and Vedic philosophy and is responsible for book production.