Vaishnavism:
Planetary Gemologists Association Global & Institute of Planetary Gemology:
Astral Gemstone Talismans: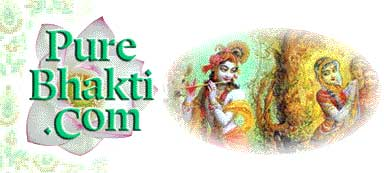 Our aim and object is to present the ancient wisdom of the Vedas (the world's oldest philosophical texts) in it's pure and original form for the benefit of all mankind without regard to gender, race, creed, nationality or any other temporary material distinction. Pure Bhakti Yoga is the eternal science of the soul, and the process of realizing our true nature and our eternal position, as part and parcel of the Original Creator known in all the Vedic literature as Sri Krishna. By the process of Bhakti Yoga we can attain true and eternal happiness in our true home, Sri Goloka Vrindaban. The official website of BHAKTI and the International Gaudiya Vedanta Society.
http://www.bhaktistore.com/catalog/ Gaudiya Vaishnava Books, tapes, CD's etc.
Centro Studi Bhaktivedanta
for Vaishnava History and Philosophy.
Internet Gaudiya Vedanta Portal
The IGVP opens a door to the world of Gaudiya Vaishnavism in the Internet.

Rays of the Harmonist is a bi-annual journal of Sri Gaudiya Vedanta Samiti,
meant to preserve the genuine current of conceptions of the
rupanuga-disciplic succession, and to promote a cooperative effort to preach
the message of Sri Rupa Raghunatha
A great Vaishnava Art site, site also includes articles and essays on Vedic
wisdom and Gaudiya Philosophy as it applies to today's world.
The Bhaktivedanta Memorial Library
Dedicated to all Bhaktivedantas of our guru-parampara. A compilation of
articles, listed by author, illuminating gaudiya siddhanta.
Vaishnava News Network (VNN) provides the Vaishnava community with news,
events, interviews, editorials and in depth coverage of issues. Here you'll
find any event worth a mention in the contemporary world of Gaudiya
Vaishnavism.
The Realm of Gaudiya Vaishnavism
A colourful transcendental site for entering into the realm of Gaudiya
Vaishnavism. Here you'll discover just about anything from a Vaishnava
calendar to a picture gallery and to an "etc. extra" page.
Books, Krsna Art, Centers. A compendium of information on the Hare Krsna's